[Disclosure: This page may contain affiliate link(s). This means if you shop using our affiliate links, we will receive a small amount of affiliate commission at no extra cost to you. Sometimes you may actually save more for shopping with our affiliate links.]
A few days ago, I have announced my brand-new WordPress Mastery Course.
It will be a Free WordPress Course for absolute beginners and to be launched on 16th July, 2018.
Since then, I am getting lots of mails asking for more information about this course.
So, I have decided to cover everything people need to know about my upcoming WordPress Mastery Course in this post.
Let's get started.
Whom Is This Course For:
I have planned this course for everyone having an internet connected laptop and a strong determination to live a successful digital lifestyle of their own.
This course will be the first step for you, if you:
want to make a digital lifestyle.
want to start a home-based business online.
are looking for a home-based job.
want to start your freelancing career online.
want to become a digital marketer.
are a student and want to earn while learn.
want to become a web designer.
want to become a professional blogger.
are an unemployed person.
are looking for an additional stream of passive income.
desperately want to be your own boss.
are a house-wife and want to monetize your free time.
are a retired person and want to make money online.
and lots more.
Practically, possibilities are endless with WordPress.
It completely depends upon you whether you will utilize your time or, you let time to utilize you.
No matter what, I want to leave no excuse for you for not taking this course.
That is why, I am giving away this course for the price of absolute free.
So, don't overthink, signup for the course right away: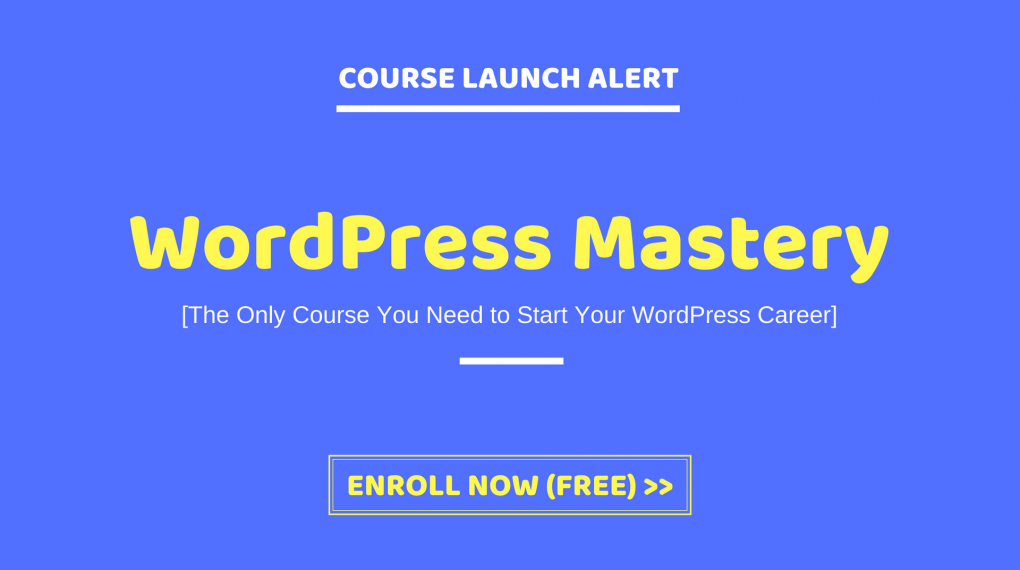 WordPress Mastery Course Signup Link
So far, we have covered a few groups of people that must be benefited from this course.
Now, let's check the curriculum of my upcoming WordPress Mastery Course (Free):
WordPress Mastery Course Curriculum:
If you missed my Free WordPress Mastery Course Announcement on Facebook, I have briefed it below:
Course Launch Date: 16th July, 2018.
Course Outline:
Day-01: Course Introduction
Day-02: Introduction to WordPress
Day-03: Getting Started with Live Project
Day-04: Introduction to Webmail
Day-05: Setting up WordPress
Day-06: Getting Started with WordPress Themes and Plugins
Day-07: Working with WordPress Themes and Plugins
Day-08: Managing Contents with WordPress
Day-09: Introduction to SEO
Day-10: Introduction to WordPress Security
Day-11: Introduction to Google Analytics
Day-12: Troubleshooting WordPress
Day-13: Making Money with WordPress
Day-14: Conclusion (With Q&A Session)
Click this link to see the full syllabus.
Click this link to Signup for WordPress Mastery Course.
Salient Features of WP Mastery Course:
This course is going to be unique and value packed.
I am doing my best to make this course the BEST one among all the Free WordPress Crush Courses.
Now, check out some of the salient features of the my upcoming WordPress Mastery Course, right away:
Premium Learning Experience:
I am doing my best to ensure that you always get the same premium quality learning experience as you would have with a paid course. Because I'm investing reasonably to provide you with the best possible digital learning platform.
Over-the-Shoulder Training Modules (Video):
This is going to be a 100% step-by-step, over-the-shoulder, bit sized video training program. Practically, my WordPress Mastery Course is going to be a high-quality "Plug & Play" or, a "Learn & Earn" program.
Learn at Your Own Pace System:
I am very much aware of the fact that everyone does not learn equally. And I respect this diversity. That is why, I have designed the training modules in such a way, that students can learn at their own pace at their time of convenience and device of choice (mobile, laptop, tab, etc.).
Downloadable Notes (Where Required):
In addition to bit sized, information rich video modules, students will be also provided with the downloadable study materials for future and offline use. I know still a few people prefer to learn from textual documents than from the multimedia contents.
Live Project, Assignments and Inter-activeness:
This is NOT another Free Course. I'm going to invest lots of my time, money and energy on it. And I will expect the same (except money) from the students of my WordPress Mastery Course, as well. So this course will be highly interactive based on a Live Project and a few daily assignments on completion of daily modules.
No Obligation to Buy Any Paid Tool:
Unlike other so called "Free" courses, I'll never force you to buy any paid tool during the course period or, after the course. However, I will introduce a few paid tools for making your live project better. But please remember, buying these tools are purely optional as I will show you free alternatives of each and every paid tool I will mention during the course of training.
Lifetime Access to My Premium WordPress Mastery Hub:
I am developing a Premium WordPress Mastery Hub combining My WordPress Mastery Facebook Group and My Premium WordPress Mastery E-Mail Newsletter. These are the media through which I will be informing you about the latest updates, deals and offers to make your WordPress Lifestyle better. As a student of my Free WordPress Mastery Course, you will be getting Lifetime Free Access to My Premium WordPress Mastery Hub (worth $15/month).
Free Access to My Quick Start Bonuses:
To start living a digital lifestyle, the first thing you will be needing is: "Money". And I am very sure that you want to start making money online quickly. That is exactly why, I am also going to giveaway some of my Quick Start Bonuses (I call them Instant Money Makers) to the students of my Free WordPress Mastery Course. More on these in a minute.
Round-the-Clock Students Helpdesk by E-Mail:
Finally, I am already setup a dedicated email (support@subhabratakasyapi.com) to provide the existing and would be students with the help and support they required during and after the course. For any further support regarding this course, you can contact me directly through this email.
Globally Accepted Course Completion Certificate and Badge:
After the completing the course (read, passing out the final examination), you will be awarded with a globally accepted WordPress Mastery Course Completion Certification and Badge that will be digitally verifiable and secured via Block-chain (the future of digital security).
These were some of the salient features of my upcoming course.
Now let's have a look on its benefits.
Benefits of the WordPress Mastery Course:
Learning WordPress for beginners was never been so easy before.
By taking this course, you will be enjoying the following benefits for lifetime.
You will Become Future-Ready:
WordPress is growing at a massive steady pace. Check out these shocking stats about WordPress yourself for details. So, mastering WordPress will let you become future ready. And the good news is the demand for good WordPress Professionals are also growing rapidly.
WordPress Has Multiple Career Opportunities:
WordPress can serve you with multiple career opportunities including but not limited to:
Professional Blogger.
Freelance Content Writer.
Blog Editor.
Web Designer.
Web Developer.
Digital Marketer (BIG Niche).
Content Manager.
Web Security Specialist.
Consultant.
Instructor.
and lots more.
So it is not difficult to understand the significance of learning WordPress to build your career.
Your Own Secured Digital Certificate and Expert Badge:
With the successful completion of My Free WordPress Mastery Course, you will be entitled for a block-chain secured, globally valid, digital certificate along with an expert badge. These things will be real helpful to establish your credentials in the future and throughout the life.
Live Project and Assignments (Professional Brand/Portfolio):
In addition to certificate and badge, you will also be getting your very own live project and industry level assignments on the successful completion of the course. These will serve you as your professional brand/portfolio to stand out from the competition. It will significantly increase your chance of getting hired in a relevant company.
Lifetime Access to My Premium WordPress Mastery Hub:
Along with all the features and benefits mentioned so far, you will be having Lifetime Free Access to My Premium WordPress Mastery Hub (worth $15/month). It consists of My WordPress Mastery Facebook Group and My Premium WordPress Mastery E-Mail Newsletter followed by My Round-the-Clock E-Mail Support System. Through My Premium WordPress Mastery Hub, you will be getting relevant updates, deals and offers for free to keep your WordPress career successful and fulfilling throughout the rest of your life.
Frankly speaking, this one course will be your first step towards changing your life for good.
Now, let's talk about the bonuses.
Complimentary Bonuses:
Students of My WordPress Mastery Course will be granted access to some of my exclusive bonuses as mentioned below:
My #1 Training System to Make $100/Day:
Yes. You read right. I'll share the exact system (worth $297) with the students of my WordPress Coaching Program that can consistently make $100/Day passively WITHOUT selling anything to anyone.
101 Ways to Drive FREE Traffic to Your WordPress Site (E-Book):
Do you know the biggest challenge to make money online? Yes. You probably guessed right. It is TRAFFIC – Quality Traffic. To help you genuinely, I am going to giveaway my new e-book (worth $47) on driving quality free traffic to your (or, your client's) project for free as a bonus bundled with my upcoming Free WordPress Mastery Course.
Free Download Access to My Advanced Blog Business Planning Guide:
If you are going to start your career as a Professional Blogger, this one is a MUST for you. My Advanced Blog Business Planning Guide (worth $27) will literally help you to transform your blog as a passive income machine within a few days. I am also giving away this one for free to my WordPress Mastery Course students.
A Few Frequently Asked Questions (and Answers):
Following are some most frequently asked questions and their answers.
When the course will be launched?
The course will be launched on 16th July, 2018 (Monday).
What is the course duration?
14-days. However, since it is a self-paced course, you can set your own duration.
Do I need to invest anything during the course?
No and yes. You need not invest anything to get access the course or, to learn WordPress from the course. But yes, you can invest in your future by buying your own branded domain, hosting and a few paid tools. However, as I mentioned earlier, all the other expenses are completely optional, with no strings attached.
Will this course make me a Professional Web Designer or, Web Developer?
No. This is NOT a Web Design Course anyway. It is a Free WordPress Training Program. So with this course, you will be introduced to the basics and uses of WordPress followed by the possibilities of the WordPress. However, this course will be extremely helpful for you to become a Pro Web Designer in future.
Will I get my certificate and badge instantly?
Yes. But sometimes it may take up to 7 days to get the certificate digitally delivered to you via e-mail.
Can I enlist my WordPress Mastery Certificate in LinkedIn?
Yes. Of course. In fact, I encourage you to do so.
Will you give me a job after the course?
No. However, We will provide you with the all possible support to get hired.
How many days it will take me to make my first income online?
It depends. Since it is not a "Get Rich Quick" scheme, I cannot promise you anything about your income. Typically, if you follow what I teach inside the course, you will be able to make money online within just a few days of consistent work.
I have no coding knowledge. Can I take the course?
Absolutely. You need not write a single line of code during the course. I promise. However, prior coding knowledge will be an added advantage (of course).
Will this course be Free Forever?
Certainly not. This course will be Free for First 50 Students only. Once filled up, the Course Fee will be Rs.2,999 minimum.
I know WordPress. Will your course help me anyway?
Sure. Actually, there is a huge difference between the people who are familiar with WordPress and the people who have undergone any WordPress Certification Program. So I strongly recommend you to take the course and become a WordPress Certified Professional (Free).
What are support options available in case I need any help?
You can get support via E-Mail (recommended), WordPress Mastery Hub or, via Twitter.
Do you provide Money Back Guarantee?
Yes. Of course. But I wonder, if you really need it even for a Free WordPress Mastery Course. Anyway, if for any reason, you are NOT satisfied with the course, just raise us a refund request at: support@subhabratakasyapi.com from your registered email and we will refund your money as soon as possible, no question asked.
What's Next:
Next is taking the action and completing the steps below:
Step-1: Singup for My Free WordPress Mastery Course.
Step-2: Join My Premium WordPress Mastery Facebook Group.
Step-3: Read the WordPress Mastery Course Welcome E-Mail.
Step-4: Read My WordPress Blog Posts.
Conclusion:
In this post, I have covered almost everything you might want to know about my upcoming WordPress Mastery Course.
I'm sure you have already signed up for the course.
If not, you can signup using this signup link.
Honestly, there is nothing to loss with this course except not taking it.
Finally, if you know anyone who can be benefited from this course, please share this post with them and ask them to signup for this free course. This can be life changing changing decision for them and they will surely thank you later.
Now, please share what do you think about this course? Did you signed up already? If not, what stops you from signing up for this course? Or, you may have a question about this course.
Either way, please share your thoughts with me by leaving a quick comment below.
I would love to hear from you and I reply each comment personally.
---
If you want to write for us, check out our Write for Us section for details.
The following two tabs change content below.
Subhabrata Kasyapi is the Founder of Ethical Blogging. He writes about Blogging, SEO and Advanced Content Marketing Strategies.
Latest posts by Subhabrata Kasyapi (see all)